ARENA magazine is the official magazine of the Metropolitan Grand Lodge and Metropolitan Grand Chapter of London. It was founded by Bryan Green in 2007 to fill the information gap caused by the abeyance of the 'London Column - the newsletter for London Masons', the first magazine to be produced under the Metropolitan Banner and edited by Nick Carter.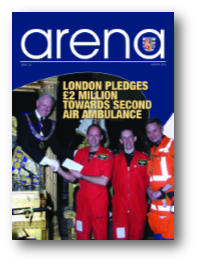 Bryan wanted to move the magazine away from the traditional 'local' masonic magazine by providing articles connected with the history, practice and personalities of masonic London. This 'independent' approach is still followed today and ARENA remains committed to providing a lively mix of the abovementioned topics together with "what's on" and "what's been happening" news. It is written for the Masons of the Metropolitan area but is open for all to read and enjoy

If the e-reader does not work on your viewing platform, you can also download the edition as a .pdf file. For reasons of bandwidth and space, we do not host the older editions beyond one year but links to older editions may be sent to interested parties if resources permit.

We hope that you enjoy reading ARENA magazine.